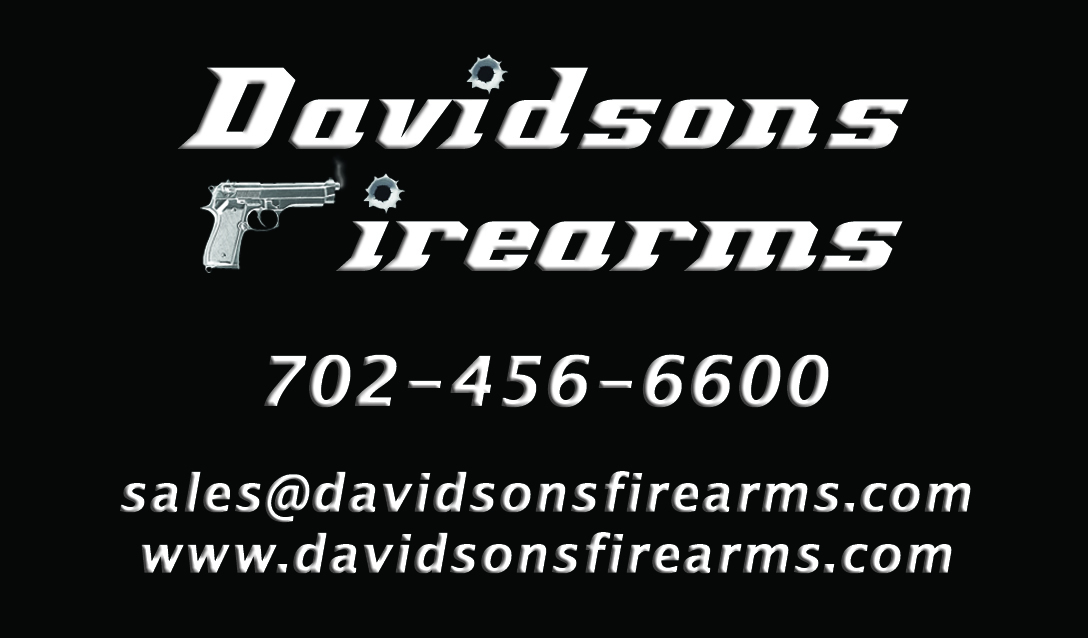 Welcome to Davidsons Firearms
Our address for NFA pickups is as follows:
2654 W. Horizon Ridge Pkwy
Suite B8
Henderson, NV 89052
Store Hours
Tuesday thru Friday 10am-6pm
Saturday 10am-5pm
CCW Classes
Please contact Nevada Firearms & Training for CCW Information.
New NV, FL CCW Class is $100, Renewals $75
UT Class's are available on request.
NV, FL Classes are the 1st & 3rd Sunday of each month at 9:00am at the store.
Utah Class $60
Please give us a call to check if there is room available in the next class and to get signed up.
YOU MUST PRE-PAY FOR CLASS AT LEAST 1 WEEK PRIOR TO CLASS.
CCW Classes provided by Nevada Firearms Training
Transfers
Davidson's will no longer be doing transfers. Nevada Firearms & Training will receive your firearm for a transfer for $25 per firearm, plus a $25 background check if needed.
You can download a copy of thier FFL at the link below.
Nevada Firearms & Training FFL
Please make sure the person sending your item includes your contact infomation, thier contact infomation and a copy of their FFL or Drivers License. Without the above info they cannot process and deliver your item to you.
Additionally The State of Nevada now requires sales tax to be collected. A invoice must be received with the item from the shipper so that they can collect the state mandated sales tax. If the item is a gift or there is no charge then they must include a letter stating that there was no money exchanged for the item.
Please give them 24 Hours after your item has been received to get it logged in and ready for pickup.
Items are available the same day they are received for an additional fee of $10!
If you are picking up more than 3 firearms at one time then you will need to make an appointment.

You will have 14 days to pickup firearms received by them, after 14 days there will be a $5/ day storage fee per firearm.